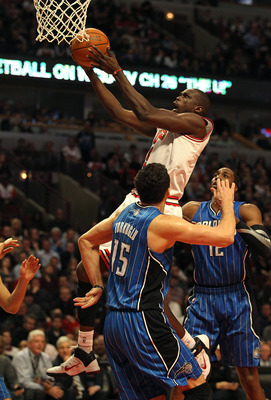 Two good but most likely tired teams look to face off tonight on TNT. The Orlando Magic are coming to town playing their 3rd game in 4 nights after losing to the 5 win Bobcats. The Bulls are playing their 4th game in 5 nights and the 2nd game of a back to back. Rose and company are currently riding a season high 8 game winning streak. Usually when teams are streaking like Chicago they get complacent, and last night against the Bucks it showed on the defensive side of the ball. I don't expect that to be the case tonight. Coach Thibs does not tolerate lapses on D and I expect he had a good talk with all of them at shoot around today to address just that and without a doubt has their attention.
Boozer helps on the offensive end, he is more skilled than Taj and even when his shot isn't falling defenses honor him more which opens up the lane for Rose to drive, and Deng to slash . Anderson is a stretch 4 and just the type of player that typically has their way with Boozer. Anderson is having a very good season offensively, luckily the last time he met up with Chicago he had an off shooting night. If he changes that tonight and Boozer cant play something that at least looks like defense we might see a lot of Gibson.
Deng Bang?
Luol has pretty much abused Hedo on both ends of the floor in their recent match ups. Tonight shouldn't be any different. Hedo has for the most part been shut down. As of late on the offensive end, Deng has been lighting it up from the 3 point line but his overall shooting percentage is down, as is his scoring. Turkoglu doesn't exactly play the best defense, this could be the match up that gets a Deng Bang going at the United Center.
Fight Outside First
While it is important to try and stop Howard Chicago needs to worry about the shooters first. Basically Orlando is Howard and a bunch of shooters. When their shots are falling they can beat anyone on any given night. So it is important to make stopping them their first priority. Dwight is a beast anyone's chances of completely shutting him down aren't extremely high no matter what they do. What is likely is the rest of the team going away from Howard and chucking up their shots no matter if they're falling or not. They do this quite often.
Who Do You Got Bulls or Magic?
This should be a good one. Orlando is most likely focused after losing to one of the leagues bottom feeders. To Thibodeau the Bulls poor defensive performance last night might as well have been a loss and is wanting to see something different from his team against Orlando. Deng who played 45 minutes and Rose who played 39 are most likely feeling it, no one on the perimeter for Orlando can stick with them meanwhile Orlando has the advantage down low because of the fact that Noah often struggles with bigger bodied centers. If the Bulls drop one after streaking so long I wont be too disappointed, but it would be really nice to keep this thing rolling