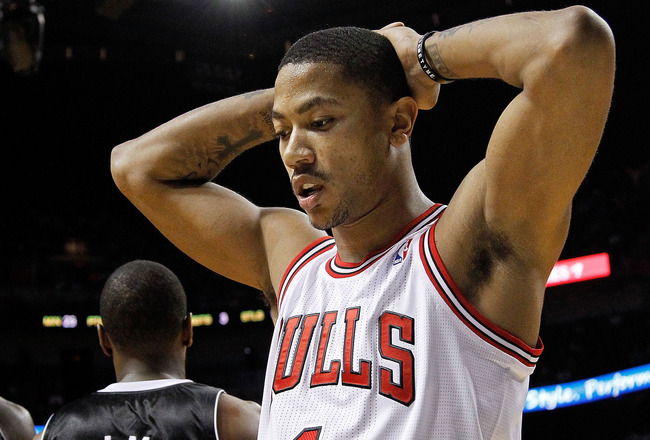 "The Chicago Bulls are a better team when Derrick Rose is on the bench", "Its more of a team game when Rose is out" that is what I am hearing over and over again from many NBA fans. This is just plain and simply not true.
Its funny how short some peoples memories are, Rose came into the season with a different approach, he was less aggressive on offense and looked to his teammates more. The Bulls were barely winning games because his teammates weren't hitting their shots. Rose said he was going to change his style of play and be more aggressive, Chicago started dominating like we were used to. Once Rose went out 90% of Bulls fans were in a panic because they knew what he means to this team. Now that a teams mixture of heart, depth and resolve stepped up when their leader went down, they think they're better without him.
Don't forget what type of player Rose is, team first and always. Unlike a lot of other players when he says all he cares about is winning he is 100% genuine. How many Superstars around the league would take a benching like that? Honestly we have already seen Kobe punch a chair when Brown took him out in a less meaningful game than the Bulls played in last night. He will do whatever it takes to win, and in the past when the Bulls needed him to take more shots to win, that's what he did.
I will admit that they need to find a healthy balance between Rose iso, and team ball. I fear more that Rose will look to defer to his teammates more than he should than the ladder. If they can find that healthy balance and the rest of the team plays like they have been without Rose, the rest of the NBA is in trouble PERIOD.